印象深い2020年の10月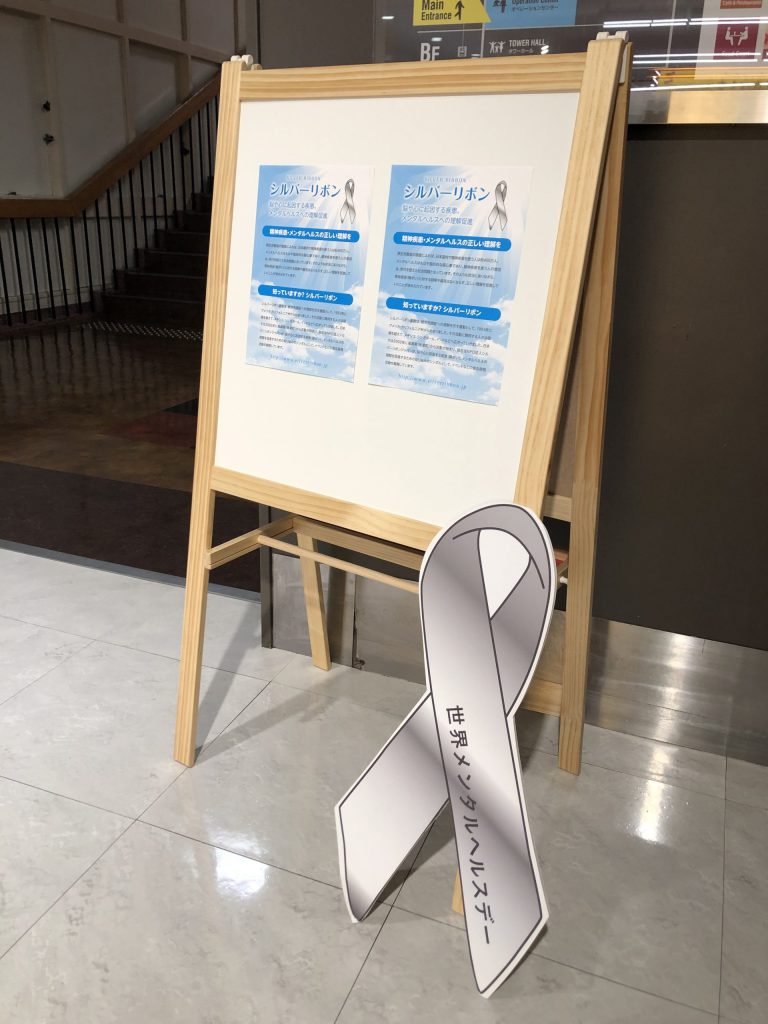 早いもので、10月も本日で終わります。今年(2020年)の10月は、私たちシルバーリボンジャパンにとって、実に印象的なものとなりました。
10月10日の世界メンタルヘルスデーは、厚生労働省のイベントに協力させていただき、東京タワーがシルバーリボン運動にちなんでシルバー色にライトアップされました。
田村厚生労働大臣も出席した点灯式では、Jヴィレッジがある福島県の楢葉町から日本国内におけるシルバーリボン運動を開始した当会会長の栃久保が、米国カリフォルニアの地でシルバーリボン運動を創始したジーン・リーシティー氏がこの度のイベントに寄せてくれたメッセージを代読しました。
また、東京タワーの館内では、10月10日と翌11日にかけて、「向き合うと変わりはじめる写真展」を開催させていただきました。
本当に多くの方々のご協力のもと、2020年の世界メンタルヘルスデーを世の中に発信することができました。改めてお礼申し上げます。
繰り返しになりますが、実に印象的な2020年の10月が本日で終わります。終息の見通しが立たないコロナ禍における社会の停滞感、それに伴うような人々の精神的な疲労や不調。若者や女性の自殺者数増加。わが国における精神保健医療福祉領域の課題は山積している中、私たちシルバーリボンジャパンはどこへ向かい、何をするべきか。それを強く考えさせられた一か月でした。
進むべき方向性とソーシャルアクションの方法を今一度よく整理し、来年の世界メンタルヘルスデーに繋げていきたいと思います。
さいごにシルバーリボン運動の生みの親、ジーン・リーシティー氏がこの度のイベントに寄せてくれたメッセージを紹介し、印象的な2020年10月の締めくくりとさせていただきます。
引き続きシルバーリボン運動を、よろしくお願いいたします。
+++
To whom it may concern
The great nation of Japan has adorned her beautiful capital city of Tokyo with silver lights for World Mental Health Day 2020.  Tokyo Tower is wearing a silver ribbon.
The Silver Ribbon is a symbol of caring and hope.  It is a symbol for fighting the stigma against mental illness and for making it easier to get effective treatment.  It is a symbol for education and research.
With this event Japan is lighting the way for the world.
Jean S. Liechty Founder of Silver Ribbon Campaign for the Brain Newport Beach, California USA
関係各位のみなさま
世界メンタルヘルスデー2020年に、素晴らしい国、日本が、その美しい首都、東京をシルバー色に輝かせてくれます。まさに、東京タワーがシルバーリボンを身に着けてくれるのです。
シルバーリボンは思いやりと希望の象徴です。精神疾患に対しての偏見と差別を払拭し、効果的な治療を受けやすくするためのシンボルです。教育と研究のための象徴なのです。
このイベントで、日本は世界への扉を照らしてくれるでしょう。
米国カリフォルニア州ニューポートビーチ
Silver Ribbon Campaign for the Brain創始者 ジーン・シングルトン・リーシティ